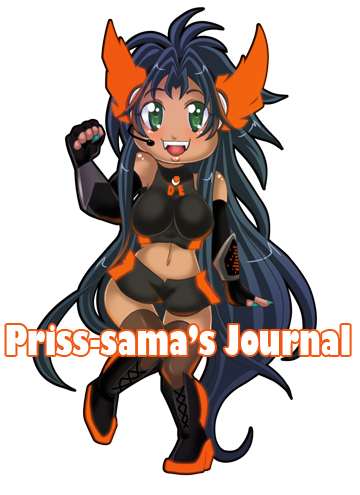 Hello guys! n__n
First of all, I would like to start this journal with some advertisement


My friend

is taking point comission. She has very good prices and her artwork is gorgeous! So go, take a look at her gallery and comission her! You can be sure you will take beautiful artwork!


I also would like to advertise one of the groups where I'm admin of, I'm talking about

If you're a fan of this lovely gemini boy, please go and join! The fans must be united, right? ;3
OC Interview
Funny interview I stole from
~
Anthenora
's journal.
1) Choose one of your own characters.
2) Make them answer the following questions.
3) Then, tag 4 people.
4) Feel free to add some questions of your own!
Your Character:
Priss

(because she's mah main chara

)
Let's start the questions…
1. Gender?
Female
2. Age?
21
3. Hug?
Sure *hugs*
4. Bad Habits?
I'm extremely clumsy and sometimes naive

5. Favorite Food?
Seafood
6. Ice Cream Flavor?
Strawberry
8. Killed Anyone?
Yeah, I'm a warrior, ya know...
9. Hate Anyone?
Not exactly hate, but yeah I think I dislike some ppl like every normal human being
10. Secrets?
I dont remember one in particular right now. But i wont tell you anyways xD
11. Favorite Season?
Autumn, is so paceful n__n
12. Best Friends?
Alyssa, Daniela, My sister, Tethis... I hope I'm not forgetting anybody

13. Hobbies?
I really like to cook, Oh and I clean

Yayoi: Do you consider "clean" a hobby??

14. Fav Drink?
Tea

(and secretly rum but I cannot drink it cause me and alcohol are a dangerous combination

)
15. Birthday?
My collar says I born on august 21
16. What age did you die?
err... I'm still alive, ya know... n__ñU
17. Nice Or Mean?
Nice I guess xD
18. What do you think of your creator?
She's so meany! She makes me suffer in all the stories she makes me!

19. Weakness?
I guess Kanon n__ñU yeah I have done a lot of stupid things just for him

20. How long can you stay underwater?
Well, I lived around 10 years on Poseidon's Temple, so technically I stayed 10 years underwater

21. What do you do on a regular basis?
Lets see... When I wake up, the first thing I do is clean my hut, then before go to train I make Kanon's breakfast,
then I train almost all the day, then I go to Athena's temple to take care of some business, and then in the night I return to my hut.
That's pretty much a normal day in my life.
22. Do you love someone?
Yes, I do. I tought that was clear

23. Does the person loves you back?
Honestly I dont know :/ Some times he acts like if he does, but sometimes he's just so meanie. I dont know why Kanon has to be such a complicated man

24. Do you like me?
And you are...?
25. What do you consider fun in the day time?
Not being send to take heavy stuffs to high places would be fun =___= *is tired to be used as a mule*
26. At night?
Reading a book before sleep is relaxing

27. You like meatballs?
Yeah, and I cook them too

28. Chef Boyardee's meatballs?
Say what...?
29. Are you gay?
No as far as I know

Kanona: Oh, I can change that kukuku

Kanon: No you cant!!

30. Say that you were trapped in a closet with your lover for 2 days.
Already happened and it wasnt as fun as you think =__= Kanon was drunk in the first place... and a drunken Kanon is like a mix between a jilted old man and a horny teenager

Oh and dont let me talk about his hangover...
31. Place of origin?
Greece, I dont know exactly wich place of Greece, but I know I'm greek.
32. Large or small family?
If friends counts as family, then my family is big enough C:
33. Who are your parents?
I have no idea

34. Do you have a phobia?
I'm not sure... Never think about it before

35. Piercings/tattoos?
No thanks
36. Is this quiz over?
I dunno, you tell me
37. Do you like cats?
They're ok
38. Lucky number?
I dont know, 8?
39. Favorite color?
Blue
40. Eye color?
Light Brown
41. Hair colour?
Light Brown again xD
42. Quick! Someone kissed your love! What do you do?

*medusa hair*
43. Fave music?
I dont like an specific gender of music, to be honest, I like music in general.
44. No one cares about you.
Yeah, I know

45. Where do you want to be right now?
Cleaning. I like to clean when I'm stressed, and you're getting me nervous with all these questions ñ___ñU
46. What are you in your love's opinion?
I have no idea

I dont even know if Kanon considers me his love Y.Y
Yayoi: For Zeus sake sister, give me a fucking break! Kanon's feelings are obvious for everybody except you!

47. What do you do for a living?
I'm an Athena Saint
48. You are in jail. What do you do?
I wouldnt be surprised if that happens, considering my "good luck"

49. Wanna party with me?
If you pay the bill, then yeah.
50. This quiz is over...
Finally

51. You know I'm just kidding...

52. Now for real this quiz is over.
Is not another trick, right? ¬¬
53. Bye!

Now I tag...





Comissions Progress:
S k e t c h C o m i s s i o n s


Sketch Comission - OC Linx Daniela x Gemini Saga (+ BG)


Sketch Comission - OC Hydrus Aly x Scorpio Milo (+ BG)


Sketch Comission - OC Nova x Mello (+ BG)
M o n o - S k e t c h C o m i s s i o n s


- Yuzuriha x Shion --
(In Progress)
P S G S t y l e C o m i s s i o n s


- OCs Carlos & Soraya


- OC Aly x Scorpio Milo


- Trio Bitch (aka Dani, Aly and Priss)
Working on right now:
T r a d e s


OC Sveta --
On Hold
O t h e r s

Quiz prize for

Chibi Behemoth Violate --
Sketching

Quiz prize for

Chibi DN Aly --
Sketching

Double Meme with

--
On Hold

Medieval Era


Free sketches:


1. OC Elyon x Aries Shion Done!
2. Balrog Rune -- In progress (on hold)
3. OC Epona x Gemini Saga -- In progress (on hold)
4. OC Kazuko x Aquarius Camus
5. OC Pluma x Icarus Touma
-------
Extra OC Gladiola x Pisces Albafica