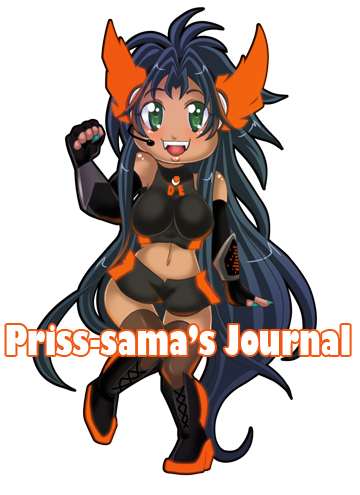 Tagged by

I have to write 9 random facts about the tagged OC and then tag 8 ppl and 8 characters.
So, the chosen one is....
Priss


She has bad luck most of the time. She's the type of person who usually get into troublesome situations, you know like the unlucky person who is walking on the street and the suddenly a piano fall on her


She's very patient and I mean veeeeeery patient (hell, she has to deal with Kanon, that's enough prove that she's patient xD). One of the most difficult things to do is piss her off, that's why some ppl find her irritating, cause she's always calm, but in the strange case she get mad, her hair gets all messy and she acts scary.

There's one word that can piss Priss off inmediatly, call her "weakling" and in less than 2 minutes she will be strangling you


Her favorite color is blue (ocean blue to be more precise), must of the outfits of her wardrobe includes this color.

One of her favorite things to do is cooking and she actually cooks really good.

During the trainings, must of the times she either falls from a risk or someone hits her on the face with something


She doesnt give up very easly. When she's decided to do something she fights for it until she do it. Her determination is one of the things that makes her a good warrior (even if she is a clumsy person).

Whe she used to live in the Poseidon's temple, she lost a lot of weight because of the poor feeding, and also she had an ill-looking. Thought she gained must of the weight she lost when she returned to Sanctuary.

She's very delicate and femenine, even her way of talk and her voice is calm and delicate (very different to her sister that is very noisy). Her behaviour sometimes reminds of a mother.
Now I tag....

-> Aly

-> Dani

-> Manuela

-> Gladiola (Lost Canvas)

-> Faralya

-> Iliana
And anyone who wants to make this tag xD
Comissions Progress:
S k e t c h C o m i s s i o n s


Sketch Comission - OC Linx Daniela x Gemini Saga


Sketch Comission - OC Hydrus Aly x Scorpio Milo (+ BG)


Sketch Comission - OC Nova x Mello (+ BG)
M o n o - S k e t c h C o m i s s i o n s


OC Hanako x Cancer DM --
In progress
C h i b i C o m i s s i o n s


OC Aly x Scorpio Milo


OC Lexi x Kurama
S u b C o m i s s i o n s


OCs Elias & Katsuya --
Sketching
Working on right now:
T r a d e s


OC Sveta --
Sketching
O t h e r s

Double Meme with

--
Sketching

Band for


Bishonen as Kid


Free sketches:


1. OC Elyon x Aries Shion Done!
2. Balrog Rune -- In progress
3. OC Epona x Gemini Saga -- In progress
4. OC Kazuko x Aquarius Camus
5. OC Pluma x Icarus Touma
-------
Extra OC Gladiola x Pisces Albafica