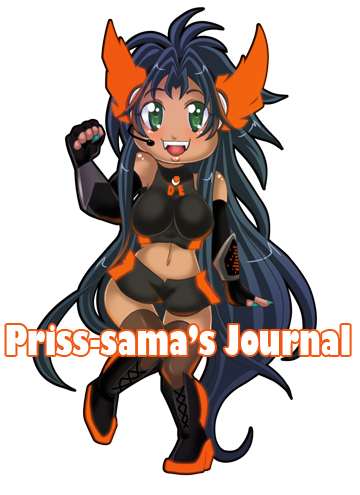 Hello everybody!

How's everything?
Well I know it may sound stupid, but I finally changed my avatar! LOL

I have had the same avatar since 2008

lol so is time for a change now xD
But since I'm so silly, I made a plz account for my Priss -->

yeah, yeah, sue me xD
Also, I was tagged by my friend

I have to say 10 random things about myself.

I love hamburguers LOL I'm a lil adicted to fast food xD especially Mcdonalds and Burguer King.

I adore dogs and canines in general

I especially love Siberian Huskies <3

I love to drink beer xDD I actually love to drink alcohol

Though I hate sweet drinks, they make me puke >.<

I hate to smoke, the simple smell of cigarres disguste me.

I'm very proud to be a venezuelan and I love my country very much, even if right now is pure shit.

I'm catolic and I believe there's a God protecting me always, but I dont believe all the things that the priests says

I dont like scince-fiction to much. Yeah I hate Star wars, Star trek, and all that shit, I cant stand it.

My all time favorite movie is Titanic, I simply love it

I told ya, I'm a romantic-sentimental bitch xD

It pisses me off when ppl say that a straight girl cannot like yuri. Well look at me ass holes, I'm straight and I like yuri ¬¬

I dont have pacience at all xDD I tend to piss off very easly when someone annoys me.
Comissions Progress:
S k e t c h C o m i s s i o n s


Sketch Comission - OC Linx Daniela x Gemini Saga


Sketch Comission - OC Hydrus Aly x Scorpio Milo (+ BG)


Sketch Comission - OC Nova x Mello (+ BG)
M o n o - S k e t c h C o m i s s i o n s


- OC Hanako x Cancer DM --
In progress
P S G S t y l e C o m i s s i o n s


- OC Aly x Mello


- OCs Misaki & Hisoka


- OCs Carlos & Soraya
C h i b i C o m i s s i o n s


- OC Aly x Scorpio Milo
S i m p l e C o l o r e d C o m i s s i o n s

- OCs Mylene & Alex
Working on right now:
T r a d e s


OC Sveta --
Sketching
O t h e r s

Double Meme with

--
Sketching

Wolves and Bunnies


Swimsuit


Free sketches:


1. OC Elyon x Aries Shion Done!
2. Balrog Rune -- In progress
3. OC Epona x Gemini Saga -- In progress
4. OC Kazuko x Aquarius Camus
5. OC Pluma x Icarus Touma
-------
Extra OC Gladiola x Pisces Albafica